Layout
Once again, I have been successful in coercing (in a loving way, of course) my son,
Mickey
to help me create simple drawings based on my instructions to share some tips on another important aspect in creating an art work. Remember, this is very basic as my main goal is to help teachers in making (un)usual tasks like bulletin boards, instructional materials and whatever their principal would care to throw at them to expedite and make the learning experience fun.
Now that I have given tips on how to use color effectively, let us discuss composition and layout. Composition and layout is the arrangement of artistic parts so as to form a unified whole. Hence, composition is the art of putting together all the elements of a piece to make a pleasing whole. Let's take for example a square, a rectangle a circle and a triangle in one art piece. If we just toss these objects to a given space without much thought, it would probably look like this:
Fig. 1

As you can see, they are unrelated and there is no movement at all. However, if we make a few adjustments, put them together in an artistic manner, then we have a more coherent arrangement. Something that goes like this:
Fig. 2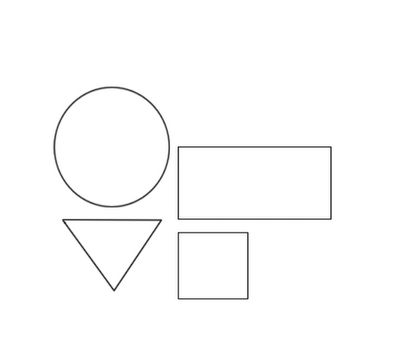 Remember, when doing a bulletin board, a poster or anything that calls for a visual presentation, always consider how you are going to put the various parts together. To do this, we must bear in mind the concept of balance. There are two types of balance in art. The first one is called
Formal balance
. This is when all the elements found at one side of the given space is also found at the other.
Fig. 3 Formal Balance

This type of balance is very safe for there is already symmetry. However, sometimes, this can be boring to look at. This brings us to the next type of balance which is called
Informal balance
How is this done? Just like when two people of different weights ride a see saw, either the heavier one or the lighter person adjusts so that the seesaw will have a good equilibrium and they can enjoy the ride. This is what a good artist does. Find a "feel" for balance. There are some rules which we can follow. I can give you one. Remember, a big white object will balance several dark smaller objects. Hence:
Fig. 4 Informal Balance

If you see a photograph where all the elements are placed on the right side, don't you feel like they are falling off from the frame? That is because it has poor balance.
Lastly, consider patterns when making a design. you can use three basic patterns. These are, repetition, (aaaaaaaa), alternation (ababababab) and alteration.
Fig. 5 Pattern

Since my
son
(feel free to browse through his works) is already sleepy and it being a school day, I had to free him from helping me. Thus, using the same example, imagine that all the shapes are in white, that is repetition. Since I asked him to make it black and white, the pattern is alternation. If say on the space at the left of the picture, I created a red circle, then I would have altered the pattern, hence such will be alteration.
Lastly, one can use the rule of thirds. How this is done is by dividing the drawing or working space into three parts horizontally and vertically like so:
fig. 6 Rule of thirds

The intersections are the most interesting spots where you can put your subject. Simple, right?
For a much more detailed lesson, you can go
here
and
here