mickey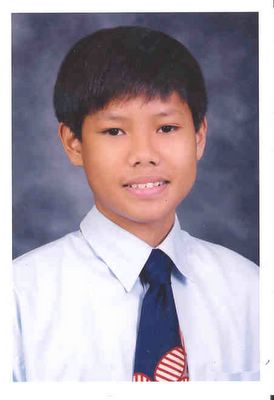 Coby

Father and Sons

It has always been said that the children are nothing but the parents all over again, only better. Here are pictures of my two boys. Mickey is the artist. He plays the violin. Been doing that since he was in grade three. He is a member of the school's symphony orchestra and one of the quartet who plays in concerts and school activities. As a visual artist, he paints using all sort of medium and is a member of deviant art. You can view his works
here
. Coby, on the other hand, is the youngest of the brood of four. He is the athlete among the lot. He belongs to the training team in swimming in school and plays basketball well. The last one is yours truly, when I was about their age. Can you see the resemblance? i have written a poem which I would like to share here. This was written right after the three of us had gone home after a three day camping trip to Makiling during the school's Father and Son camp. This has been published online. You'll find it
here
Hope you enjoy the pictures and the poem as well. Here goes:

Rites of Passage

I have camped on
these grounds when
I was young,
braved the thick forest
to test if I
could be a man.

Leaves relentlessly fall
raining down on my tent
weave a golden mat on the dirt
just like it did before.

Insects stubbornly
invade the silence
unfazed by the dark night
or the snores from
other fathers
tending their sons.

Inside my tent
two growing boys
saturated with play
innocently asleep
carelessly sprawled
on the sleeping bag.

How I envy the trees
defying the wind outside
with each offspring
a success,
they stand
sturdy and proud.

I come back
to camp on these grounds
once more
to test if I
can be a father
to these youthful boys.