Last night, my wife and I had a blast with our friends who we consider our extended family. We have been with this group of friends for what it seems to be an eternity and we don't mind. How could we when we are having so much fun with them around. Most importantly, our children get well together with theirs and theirs with ours. We spend all occasions with them. Well, we hang out with them for no reason at all. Last night was a special night though. We celebrated Joven's nth birthday party and party we did! But before that, allow me to give you a glimpse of how big a family we are. The shy (daw) birthday celebrant is at the end to your right. (Not in the picture are Ricky who took it, Redjie and Rolly V. Inside the car was our sleeping beauty, Tetay, who just can't get enough sleep. This was taken during our trip to Subic)

My friends...my family From l-r Vivian,Dante,Agnes,Jenny,Kathy, Ollie,Brad Pitt, Jenhifer Aniston,Edgar and Joven

The party was hosted by his lovely wife, Jenny. We started out with an eating frenzy at the Emerald at Roxas Boulevard. After pigging out on all those food, we decided that the night was still too young (as it always is with this group) and proceeded to Malate to listen to some music and drink some booze. The band's (Acoustic Vibes) crooner, Romy Jorolan, turned out to be Edgar and Vivian's neighbor and we all had a ball with him. The music was so great we stayed until the bar closed at around three a.m. Still spirited, we went for coffee at nearby Cafe Adriatico and finally headed home at 4:00 a.m.
And to think that we have just had a party last February 14 to celebrate Jenny's and Agnes' birthday. The two girls got a suite at Bayview Hotel where we all stayed until check out time. There we hanged out, sang songs, ate and really bombed out in a clean, fun way.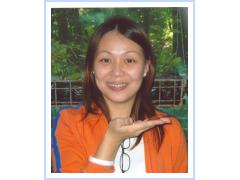 jenny


jenny and agnes

AS a group, we have gone as far north as Pagudpud and as far south as MArinduque. We make it a point that we have a trust fund just so we can have an assured traveling tour of the country every summer. Last summer, for instance, we went to Isabela, Banawe and toured Tuguegarao. This lent, we are bound for Bicol.
Last week, I read an article that said Filipinos are by far the happiest people on earth. I don't know what the gauge was or if the article was supported by empirical data but I tend to agree with it. The Filipinos' characteristic of having an extended family probably plays a big role in this aspect of life. With this extended family comes a ready made support system and a feeling of acceptance which make us feel secured and eventually, happy. I don't know if I am right but to me, it seems that other races tend to be more individualistic rather than community centered. Whatever the case may be, what I am sure about is that I am glad this is my support group, my extended family.