Every summer, the family takes advantage of the long vacation to travel and tour the country. We would do this with our extended family, a group of seven or so families with whom we spend time together on practically every occasion there is. This year, my family couldn't make it to the tour but because I have not yet gone to Bicol (probably the only province I haven't been to in Luzon), I was granted permission by the wife to tag along. I rode with Joven's family which is a welcome change as I know I couldn't stand that long hours of driving. (I am not that repentant as the my wife took the girls to Boracay. Besides, the children and i are together the whole day everyday as we all go to the same school so I guess my absence was a welcome relief, hahaha)
My real purpose was to see Mayon Volcano as I have seen a glimpse of the mountain in an airplane enroute to Manila from abroad. I can see the majestic mountain and somehow, it gives me a thrill just looking at it. It seems like its power lures me to stare at it from a much closer view. So, we went there mid-summer and I know I would have a real good view as the place we were staying in was a good spot for viewing. It would seem like a stone's throw away, so to speak. Guess what? I saw a glimpse of it on our way and never saw it again until we left on Easter Sunday. Why? It was raining and the mountain just disappeared, covered by thick clouds. No matter where we went, like the Cagsawa ruins, that famous picture perfect view of the mountain amid the ruins... nada!... Not even when we went to he Mayon resthouse where I was told was the foot of the volcano, actually about a 400 meter climb where you are suppose to see the canals, every nooks and crannies of past eruptions... still nada. What we experienced was a day filled with mist and a very cold breezer that surprised me no end as it was Good Friday at the time. I never thought nature would have deprived me to see the legendary volcano but nevertheless, it didn't spoil my fun as I was with beautiful, happy and energetic people. Here are two pictures taken at the Resthouse.

The boys at Mayon Resthouse: From l-r: Shane, Edgar, Arnel, Joven, Dante, Ricky, moi, Ollie, our Japanese friend who comes yearly to visit his beloved, Hocto and at the back is our host and friend, Gene
the girls from L to R:


from l-r: Claire, Gigi, Ethel, Tetay, Vivian, Jenny, Kathy and Agnes.
Not to be outdone, my blogging family also had a blast a few days ago.
Ate Sienna
the petite owner of the blogging group Pansitan.net and Manileña who designed my template is in town! Naturally, close friends that we've become as we are both members of the
Blogkadahan
community blog, we decided to meet with her at Dad's for dinner at the Megamall. She was even more vibrant and warm in person than she is with her blog and other forms of correspondences like the email. When you think you;'ve known the person for so long, it still surprises you to know more about him/her in person. That's what i thought when we first met. And everybody else agreed.
Another person that we've met for the first time who turned out to be a real revelation was
misispi
. Although she appears "tres chic" and elitist, she also turned out to have her share of "kabaklaan" that night. I may have been shy around her as she looked intimidating with her black dress and the way she carried herself, but knowing that although she's younger than I am, we share the same tastes for music.
Those who attended were
Karla
the youngest in the group,
Apol
,
Doc Emer
who had to leave early as he was extremely busy tending to a sick patient,
Bong K
whose blog's template is another one of Ate Sienna's creations, and the twin towers of blogkadahan kingdom,
Mari
and writer/poet
Ajay
who wrote that ever so kind article at the Blog-o-rama, Technews section at the Manila Bulletin featuring my
blog
and
Marisol's
. Too bad,
Sassy
and
Mec
had to cancel as there had been more pressing matters to attend to.
That was some night and a lovely sharing of stories and food. Ah, what could have been a better combination?
EB with Ate Sienna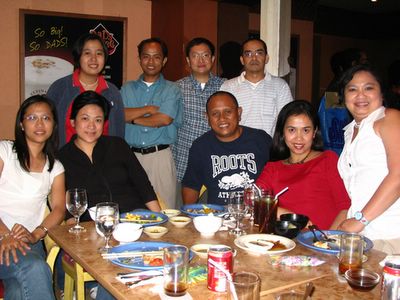 Standing from l-r: Karla, Apol, Doc Emer, and Bong K: Seated from l-r: Mari, misispi, moi, Ajay and Ate Sienna.