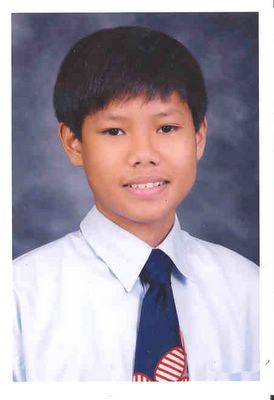 Coby

Today is my youngest son's birthday. Fourteen years ago, at this time, my wife was huffing and puffing air out of her system. Coby is, she believes, the hardest of them all. It was a breach birth (or whatever is the term used for that kind of birth). The doctors were baffled because though they felt the baby to be round, it didn't feel like the head. They ran xrays and found out its the butt that's going out first.
Coby, young as he is, is trying to find his place in the sun. Like his siblings, he's independent and has a mind of his own. He's more into sports. He did try the violin and even gave a recital but because his kuya is deep into it already, I believe he wants to something else. Sports! That's what preoccupies him. He plays basketball constantly and trained in swimming. You should see him do the breaststroke. While all the children in my family swim, he swims the longest and the fastest.
One of the amusing stories I tell about him is that episode where he had a crush while he was in Grade 5. First, he asked his mom to buy him Ferrero Roche chocolates. The big one! This made his sisters quip, "Naku Coby, tama na ang chocnut no!" All this happening behind my back. Then Christmas time, he asked his mom again to buy him a teddy bear. When my wife picked up a small one, he refused and picked a bigger one and a lot more expensive. His mother gave in. My wife secretly showed it to me and whispered, "your son is becoming to be a man now, look!" And then shows me the teddy bear. Now comes the eve of the school's Christmas party. I went to the gifts section of the house and pretended i didn't know a thing. I picked up the teddy bear (now wrapped) and asked, "Ma, who's gift is this?" Coby ran to his mother inside the kitchen and giggling, blaming his mom for not keeping the gift.
Then, he went out and guiltily pointed at Kim. "That's for Kim from her secret admirer!" Kim looked at Coby and said, "You want me to tell the truth?" I was already laughing at this time.
Dinner time, Nitz, my wife, forgot all about it and reminded the children about the gifts they're bringing to school for friends. She goes, "Fix your bags early and put the gifts inside them so that you won't forget anything tomorrow." And the clincher, "Coby, have you put the your teddy bear in your bag?" At that, I shouted, "GOTCHA!!!" Coby was so red in the face.
The following day, I spoke to Coby man to man. "How did you decide you wanted to give her a teddy?" Then he answered, "She asked for it." I said, "Wow! She must be your girlfriend already, no?" He smiled and said, "No, I'm just starting to court her."
Funny no?
Happy Birthday Coby! We all love you very much!