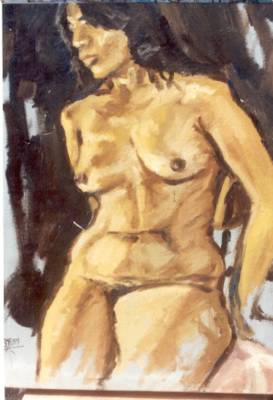 done sometime when the cost of a Marlboro was about .25 each. Size: 24" X 30" Oil on canvass.

Since I can't think of an issue on education to blog about at this time and i do have some idle time, allow me to post some of my works done when I was in college. These two nude paintings were done live. Yup, a model sits for us for three hours while we draw and paint. Usually, the nude study was our exam for our painting subjects. I think we had six. Nope, we don't get turned on. As a matter of fact, my first time was kind of funny because it was I who was intimidated by the female model who was looking back at me. (Alam nyo naman, mahiyain ako)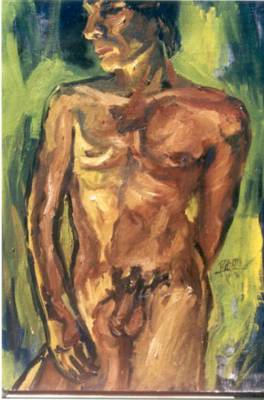 torso study done in college. Size: 24" X 30". Oil on canvass

We usually had female models. Except for the next one. He was our first and only male model. A female classmate who was "todong hinhin" was late for class that day and was surprised to find us biding our time, smoking outside the room when the class had already started. (Nope silly. We were taking our time because we believe the male model was easier for us than painting a female nude) When she asked us to enter the room with her, we told her to go ahead while we finish our smoke. She hurriedly entered the room only to emerge out again much faster, shocked to find out that the model was male. We really had a good laugh as we looked at her paled face.
And the story does not end there. Our models were given 15 minutes of posing time and 5 minutes of rest. During the break, this male model would wrap a very thin, short towel around his waist and go around the room. He also had the annoying habit of putting one foot on the braces of the stool, and since these were quite high, his "thingy" would peep much to our amusement. Guess who was his favorite stopping place. Yup, my female friend.
The last one is a much later work. Compared with the first two, I think you can see that I have mellowed a lot. No more of that reckless, bold, harsh, I-don't-give-a-damn attitude of a teen-ager who is set to conquer the world as seen through the brush strokes and the color harmony. Well, disillusionment happens only in one lifetime so, I guess that was understandable. Besides, i think there is still a part of me that longs for being uninhibited. Maybe that is the free spirit in me. Enjoy!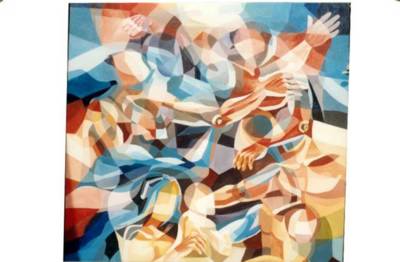 Size: 4' X 4', acrylic on canvass. Compare the treatment of color and brushstrokes of this later work with the first two.